I've lived in Eau Claire for the past decade, and for a few years before moving here, I was a frequent visitor.
Now that I'm a local, my family and friends always love to come and visit. Here are a few reasons why, and when you come and visit Eau Claire, I'm sure you'll agree with each one! 
1. It's Easy to Get To
Interstate 94 and US Highways 12 and 53 run right through town, which means we're only a few hours away via car from Madison, Duluth, Chicago, Milwaukee and The Cities. The Chippewa Valley Regional Airport is conveniently located and boasts a  shuttle service to and from Minneapolis/St. Paul International Airport.
EC Insider Tip: The Chippewa Valley Airport Service shuttle is the way to go if you need to travel to or from Minneapolis/St. Paul International Airport. It offers great service and a more affordable way to travel.
2. It's a Great Location for a Day Trip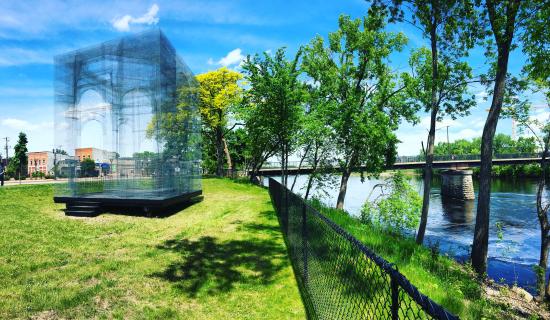 Eau Claire is ideal for a day of fun and relaxation. With shopping, entertainment, culture, picturesque parks and rivers and outstanding food and drink, there's something for everyone from sunup to sundown. Oh! And course it's always necessary to check out Baroque when you're here!
3. It's Your Extended Weekend Go To
There's been a hotel boom in Eau Claire and its surrounding communities, with many of the hotels offering amenities beyond continental breakfast and WiFi. The Oxbow Hotel is a great example. Rooms at the recently refurbished hotel offer record players (check out records from the front desk), minibars stocked with local drinks and snacks and access to the nearby rivers and trails thanks to the bikes and kayaks the hotel has available for guests. Not to mention, The Oxbow is conveniently located right across from one of Eau Claire's favorites sweet tooth destinations, Ramone's.
4. Our Food Scene is Legit
We have it all. Farm to table restaurants such as The Lakely, classic breakfast diners like Chickadees, fine dining at Bijou Bistro (EC Insider Tip: You MUST order the Bijou Signature Salad with the wine poached pears), authentic Thai and Vietnamese at Rice Palace and Noodle Teahouse, amazing pizza at Geno's-if you're hungry for it, Eau Claire is serving it up with pride! 
5. There is Always Something Going On
Check out Monday Jazz Sessions at The Lakely or maybe hit The Plus for one of its famous themed trivia nights or Clear Water Comedy shows. And of course, there is always time to head to Hobbs Ice Arena for an open skate, attend a yoga class at Latitude 44 or check out the sculpture tour downtown. Anytime you come to Eau Claire, we're sure to have something going on!
EC Insider Tip: Check out the Visit Eau Claire events calendar to help you narrow it all down! 
So what are you waiting for? Come visit Eau Claire! Share your adventures with us via Instagram with #captureec.