Going out and staying on budget usually proves to be a pretty hard feat, but Eau Clarie always has you covered.
Setting and sticking to a budget is an important part of #adulting, but sometimes it's alright to give yourself a little bit of wiggle room for some fun. Here are our top 5 places to visit in Eau Claire to get the most for your money! 
Tuesdays at Micon Downtown Budget Cinema

Movie tickets for all showtimes on Tuesdays at the historic Downtown Budget Cinema are just $3.00! If you have the Micon annual popcorn bucket, refills are just $3.50, anytime at any of their theaters through the calendar year after the initial bucket purchase.  EC Insider tip: If you join their free Movie Member rewards program, every movie you see at any of their three area theaters earns points towards free movies and snacks! Can someone say bonus! At the Budget, you'll also find a full menu including pizza, appetizers, beer, and wine. With the cash you save on Tuesday nights, you can definitely afford to indulge! 
Bug Eyed Betty's Lunch Buffet and Halfy Hour

Betty's Halfy Hour is by far one of the best deals you'll find for food and drinks in Eau Claire. Halfy Hour runs 3-6PM and 9PM-12AM every day at Bug Eyed Betty's. Halfy Hour deals include half price taps, apps, rails, house wine & bottle beer AND $3 specialty bottles and cans and $4 jumbo long islands! Here's an EC Insider tip: Order the Bacontaters! 
P.S. Their lunch buffet is a great deal too! All you can eat pizza and salad for $6.50, Monday through Friday! 
Eau Claire Downtown Farmers Market 
Photo Credit: Gina Erickson
From the end of May through the end of October you can easily pick up enough produce to meet your weekly fruit and vegetable consumption goals for just a few dollars at the Eau Claire Downtown Farmers Market in Phoenix Park. Three zucchini or eggplants for $1.00, fresh-picked lettuce or tiny cherry tomatoes for $2.00, the list goes on and on. You'll also find meat and dairy products, eggs, baked goods, coffee and stunningly beautiful flowers. All of it from local farmers and businesses.
All You Can Drink Bloody Mary Bar at The Local Lounge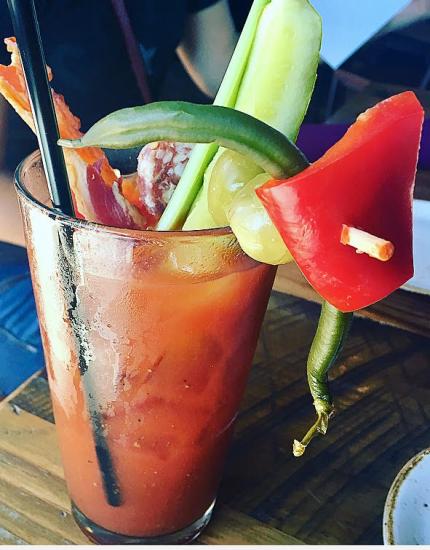 Sunday is Funday at The Local Lounge in Eau Claire! From 11AM-3PM they offer an all you can drink Bloody Mary bar for just $9.99. The bartender serves up a shot of vodka in a glass of ice, and you create your own Bloody Mary masterpiece with an array of mixes, mix-ins, and garnishes. Enjoy your concoction with their brunch buffet, or with something tasty off their brunch menu.
Menomonie Street Dairy Queen
Locally owned for over 40 years, the Menomonie St. DQ is a great bargain all year round, not just in the summer! Try their Roadside Special, it includes a choice of entree, ½ pound of French fries, and choice of a small Blizzard, shake or malt for just $9.80. On Thursdays, they offer BOGO burgers all day long! Their portions for hot and cold items are generous, and the service is always friendly. Stop in once, and you'll understand why this place is such a cult favorite in Eau Claire! 
As you give these places a try, and find more great budget-friendly businesses and events in Eau Claire, tag your social media posts with #captureec and share your favorites!