If you have kids you know – if you don't get them out of the house to play, they will drive you crazy!
Lucky for all of us parents, we've got some awesome play places for kiddos in this town, where they can run like crazy and play LOUD!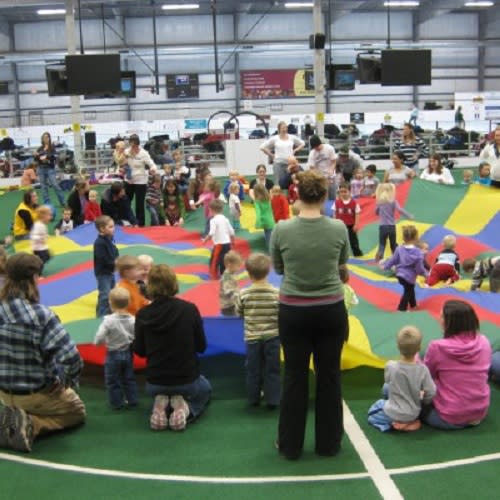 Eau Claire Indoor Sports Center
Family Fun Zone is one of my absolute favorite things to do with my kids. On Monday, Thursday and Friday from 9-11:30, head on down to the Eau Claire Indoor Sports Center for some 0-6 year old fun for only $4 per child. Kids have free reign to run on the huge turf field filled with several large inflatables, sports equipment, toys, games, dress-up clothes, etc. If you go to a summer event or fair, you're going to pay around $5/hour for your kid to jump in a bouncy house. Here, there are several different sized bouncy houses for various ages, not to mention all the other toys and games included in the cost. They also have a concession stand open if you need to take an animal cracker break.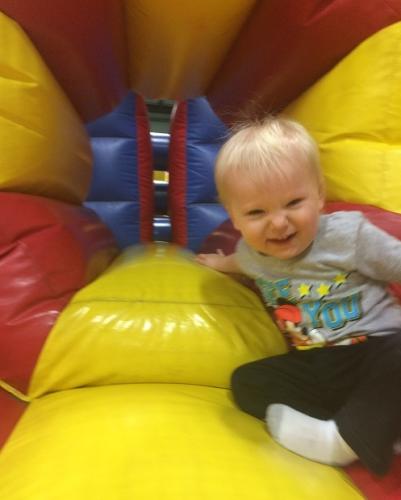 Friday Family Nights at the Eau Claire Indoor Sports Center are also definitely worth checking out! They have the same inflatables and fun toys as in the mornings but they also show a movie and have FREE POPCORN! If you take your kids out to the movies, you might spend $20 just on popcorn. With that in mind, the prices below are very reasonable.
- Family of 2: $8
- Family of 3: $12
- Family of 4: $16
- Family of 5+: $20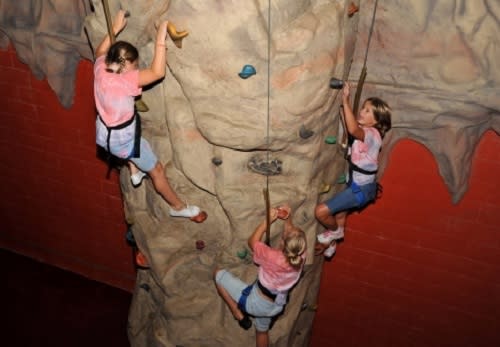 Action City & Chaos Waterpark
If you haven't heard, Action City is currently under FUN-struction. Brace yourself – a TRAMPOLINE PARK is in the works! Scheduled to open in December, the new trampoline park is going to huge and the new expansion will also include an obstacle course reminiscent of Ninja Warrior.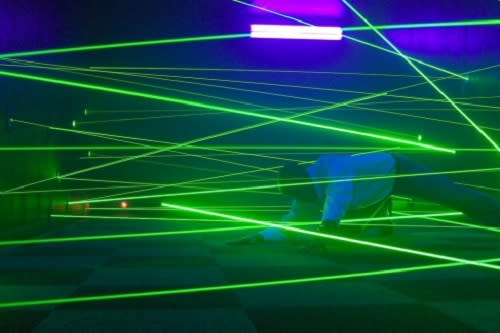 The outdoor go-karts and maze are currently closed in preparation for the next phase of expansion, set to be completed summer 2017, which will include an expanded outdoor go-kart area as well as motorized zip lines. In the meantime, take advantage of their fun-struction play deal of $10 off 5 hours of unlimited play Sundays-Thursdays. Besides tons of video and redemption games, they also have laser tag, a climbing wall, bumper cars, mini-bowling, batting cages and much more!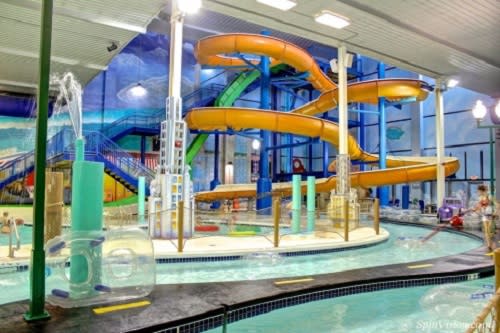 Right next to Action City is our own little mini-Wisconsin Dells, Chaos Waterpark. It has everything you would want in a waterpark: huge slides, a lazy river, activity pools, hot tubs, rope course and a kids wading pool. There are all kinds of deals if you play at Action City and Chaos Waterpark on the same day and you also get deals on both if you take a little stay-cation at Metropolis Resort. I promise you, take your kids to Action City and/or Chaos and they will certainly sleep soundly for you that night!
Lily Pad Lab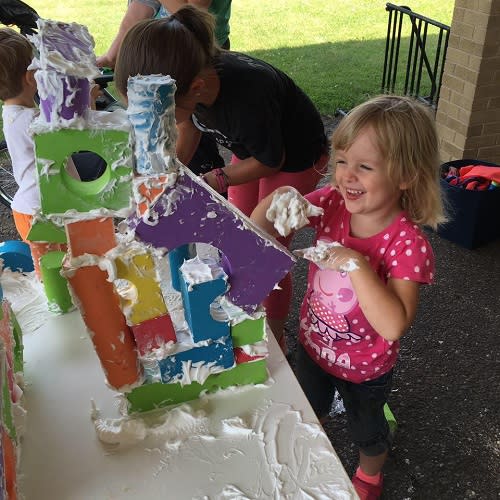 If you want your child to work on socialization and maybe take part in a music or art class, Lily Pad Lab is the place to go. Formerly located next to Cherry Berry off of Golf Road, they have now moved to 1620 Ohm Avenue, inside the Eau Claire Music School. Programs offered at Lily Pad lab are designed to support your child's growth and development, strengthen your family bond and to help you establish a community of support.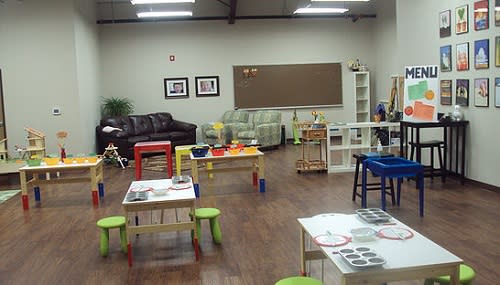 Classes offered at Lily Pad lab include:
Littlest Lab
Tot Lab
ABC's for 2s & 3s
Tiny Scientists
Yummy Tummies
Busy Bodies
Signing with your Baby
Independent Investigation
Kids in the Garden
Meaningful Messes
Preschool Spanish
Afternoon Adventures
And More!
The stimulating toys and activities planned at Lily Pad Lab will really get your child's gears turning. It's a great atmosphere for just hanging out with your kid and getting your play on while learning something at the same time. You may even be able to squeeze in an actual real-life adult conversation with one of the other parents!
Have fun and happy playing!