Wisconsin: more than just beer.
Eau Claire (and Wisconsin) might be known for its burgeoning craft brewing scene, but you should also check out the local distilleries as well. There's something a little different and unique that everyone will enjoy.
1. Infinity Beverages Winery and Distillery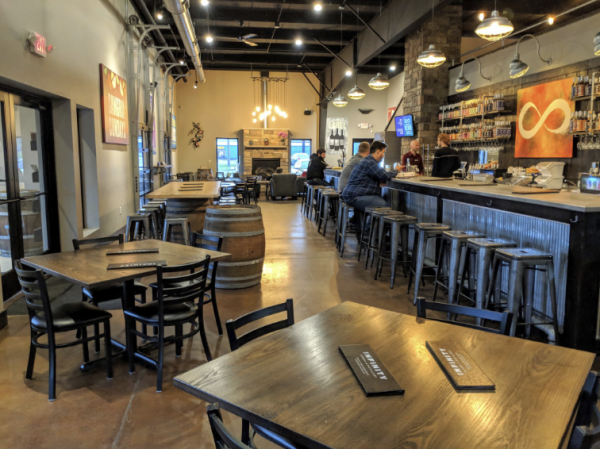 Where do I even start on what I love about Infinity? Located in Eau Claire, the large, open tasting room at Infinity is just the right level of comfort that makes you want to stay a while. They have the bar and as well as tables, but there are also couches at the far end surrounding the fireplace. Friday nights there is live music and there's plenty of space to enjoy and stay a while (last time I was there I even saw a marriage proposal).
Infinity is known for their unique wine creations and that trend continues into their spirit productions. To taste their complete spirit offerings, you'll want to do both a "Limited Release Tasting," which is both spirits and wine and the "Spirits Tastings." Altogether, I tried eleven different beverages. 
If you want to narrow down the options a little, here are a couple of suggestions. First, try the Vanilla Espresso Vodka. It's Infinity's best-selling spirit; it's great for cooking (and ice cream according to our server). Most importantly, it's great in cocktails, like a white Russian or any hot toddy. Second, try the Stout Beerksy Whiskey. Made with mash from Sand Creek Brewery, it's one of the smoothest whiskey's I've ever tried. 
2. River Bend Distilling
Entering River Bend is like going over for drinks at a friend's house, and I mean that as a compliment. The distilling lounge, adjacent to River Bend Winery is small and cozy, and it truly does feel like you are just over at a friend's house to learn about the new drinks they've picked up. The distillery and winery are open seasonally from May through December, and they pack a bunch of activities in those warm summer months with music overlooking the vineyard and other events in the quiet location between Chippewa Falls and Eau Claire.
River Bend has five different spirits and you can individually select one, all or anything in-between to taste. I tried all five: a gin, vodka, white whiskey, a rye and the bourbon. I've always enjoyed a good gin, but the gin at River Bend was really different - again, in a good way - it was almost lavender. They actually serve a lavender collins as one of their mixed drink offerings and it's one of their most popular drinks.
If you can't make it to River Bend Distilling, they just got their distribution license, so you will soon be able to find their products in a grocery store near you.
3. Chippewa River Distillery
No visit to Chippewa Falls is complete without a visit to the second largest brewery in town, but their tongue-in-cheek slogan could also be: "The Only Distillery in Downtown Chippewa Falls." Of the three local distillery's, it's also the only one affiliated with a brewery, so it's a great choice if you are with beer drinkers instead of wine drinkers. Chippewa River Distillery excels in their outdoor space with both a rooftop patio overlooking the Chippewa River and a lower-level patio, which as a bonus, is dog-friendly. 
I tried a tasting of four different spirits. The two I found most interesting were the dill vodka and the cinnamon whiskey. Yes, I said dill vodka. I would describe it like pickles but in a good way. It would be a great addition to a bloody mary. The cinnamon whiskey's most obvious comparison is Fireball, but with this cinnamon whiskey you can actually taste the cinnamon and enjoy the drink. It would be a great addition to a hot toddy or a nice cider.
All of these distilleries have their own specialties to offer.  While you're out exploring and tasting, don't forget to snap some pictures and share them with us using #CaptureEC.