The song lied to you – the one that says there ain't no cure for the summertime blues.
In fact, we put our heads together and came up with 101 cures for whatever ails you during Wisconsin's warm months. Think of this as a bucket list in which the bucket overflows with must-see sites, must-do activities, and must-eat edibles. Got the summertime blues? Check out Tuesday Night Blues at Owen Park. Feeling a bit bored? Fly on the new zip line at Action City. Tired of the same old cuisine? Dine on a frosty malt at the county fair. You get the picture – so get this list and get started before summer is gone!
1. Grab some fresh produce at a local farmers market.
2. Relax by the rolling water at Big Falls.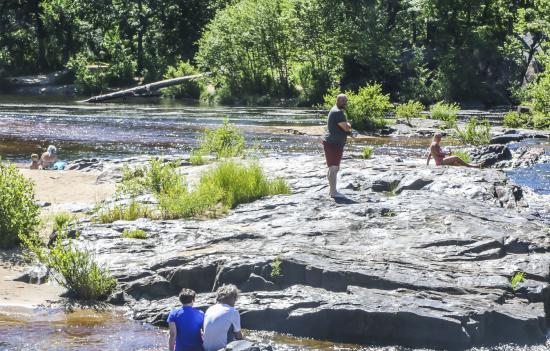 3. Go to the U.S. National Kubb Championship or just play it in your backyard.
4. Make the drive to a nearby pizza farm.
5. Try out the new zip line at Action City.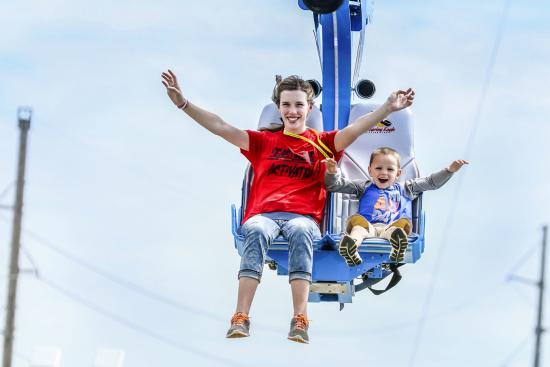 6. Join a sand volleyball league.
7. Go berry-picking.
8. Catch the blues under the band shell at Tuesday Night Blues in Owen Park.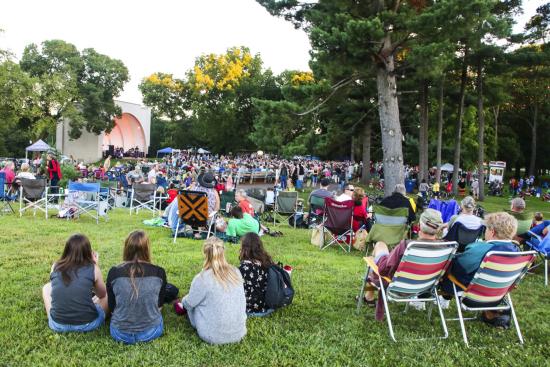 9. Find the perfect fishing spot along the Chippewa River.
10. Walk through the woods and take in all the art and music at the Eaux Claires Music & Arts Festival.
11. Gaze at the night sky at the Hobbs Observatory.
12. Watch the Ski Sprites defy gravity on water skis on Lake Altoona.
13. Bring a blanket and catch a movie at UWEC's outdoor Summer Cinema Series.
14. Stop by the legendary Olson's Ice Cream for a scoop of some of the best.
15. Stroll through the Eau Claire Sculpture Tour and vote for your favorites.
16. Eat a cheese curd – or, better yet, eat a whole plate of them!
17. Find the Summer Snow stand around town and cool off with some shaved ice.
18. Pop on a cowboy hat and some cutoffs and catch Country Jam.
19. Rent a kayak and spend a day on the water.
20. Feast your eyes on the sidewalk art at Chalkfest.
21. Have a beer and cheer on the Eau Claire Express at a home game at Carson Park.
22. Take part in a 5K or a run/walk for charity.
23. Put your mightiest rowing team together and compete at the Half Moon Dragon Boat Festival.
24. Walk, jog, or bike the Chippewa River State Trail.
25. Volunteer or do some highway cleanup.
26. Sniff out bargains at a local rummage sale or host one of your own.
27. Get a great view of Lake Wissota from the rooftop patio at The View.
28. Fall in love with local music at the Sounds Like Summer Concert Series.
29. Drive by all the sunflowers planted along Highway 85.
30. Tube down the Chippewa River or take it to the next level at FATFAR.
31. Take a tour of a local brewery.
32. Enjoy a good old-fashioned Friday fish fry.
33. Check out summer programming at local libraries.
34. Scarf down a burger and some curds at LaGrander's Drive-In.
35. Plant a garden or register for a plot at a nearby community garden.
36. Watch the Ludington Guard Band perform in Wilson Park in Menomonie.
37. Cool off at the splash pad at Irvine Park.
38. Headbang to rock legends at Rock Fest.
39. Have a good time, but go easy at Bean and Bacon Days in Augusta.
40. Stop by a local food truck if you see one around.
41. Find your favorite weekend brunch spot.
42. See a movie on the cheap ($0.25) at Micon Cinemas' Summer Kids Shows.
43. Cheers beers at the Leinenkugel Family Reunion.
44. Try the VR helmets and go to a new dimension at The District Co. – or just play checkers.
45. Spend your days at the Fairfax Pool, Wakanda Waterpark, or Bernard F. Willy Community Pool, but don't forget sunscreen.
46. Take in the sights, sounds, and smells of the wondrous Eleva Broiler Festival.
47. Enjoy nature while actually learning something at the Beaver Creek Reserve.
48. Pack up a tent and go camping at Coon Fork Lake County Park for the weekend.
49. Squeeze into a tiny train car and ride the Chippewa Valley Railroad in Carson Park.
50. Enjoy a beer (or a root beer!) on the patio at Lazy Monk Brewing.
51. Hike across the High Bridge in downtown Eau Claire and peek at the water far below.
52. Explore the natural beauty of Dunn County on the Red Cedar State Trail.
53. Explore the newly built Riverfront Park in downtown Chippewa Falls.
54. Get some shade under the trees at Owen Park.
55. Explore the UW-Eau Claire campus and find Little Niagara.
56. Pick and pluck your way to bluegrass nirvana at the Blue Ox Music Festival.
57. Snap a selfie with Paul Bunyan and Babe in Carson Park and visit the logging camp museum.
58. Smell the sawdust at the U.S. Open Chainsaw Sculpture Championship.
59. Bring the kiddos to the first-ever Family Day in Downtown Eau Claire on July 8.
60. Check out the brand new pavilion at the Menomonie Farmers Market.
61. Spread out a blanket on the baseball field at Carson Park to watch the July 4 fireworks.
62. Pedal the Old Abe Trail and find the monument to the legendary bird in Jim Falls.
63. Catch an Eau Claire Municipal Band concert on Wednesday nights in Owen Park. 
64. Walk the midway and win a giant stuffed animal at the Northern Wisconsin State Fair.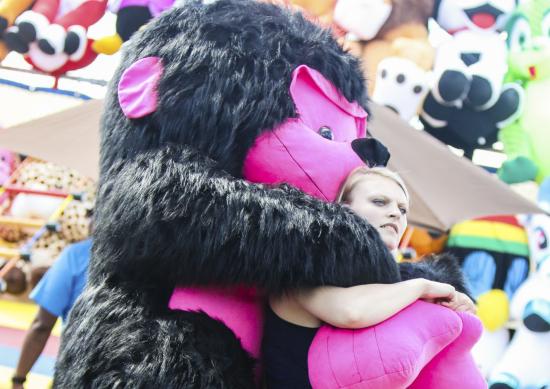 65. Enjoy a gourmet meal in a unique setting during the Grand Evening on the Bridge.
66. Work up a sweat by riding your bike off-road at Lowes Creek County Park.
67. Explore the growing number of art galleries in downtown Eau Claire.
68. Create your own artistic masterwork at Cheers Pablo or the Paint Shack.
69. Find your inner peace with an outdoor yoga class.
70. Peruse the Artist's Market at Phoenix Park on Saturday mornings.
71. Climb the stone tower overlooking Elk Mound and find out what's really up there.
72. Get out your clubs and hit the links on one of the Chippewa Valley's many golf courses.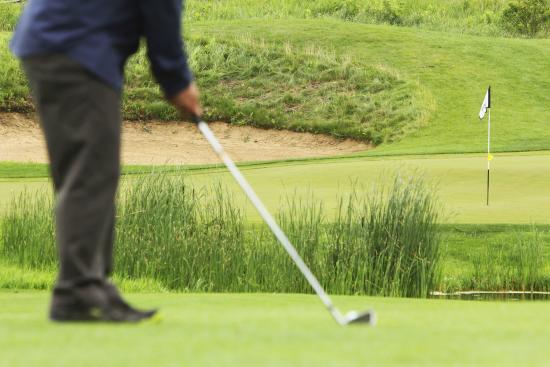 73. Head "up north" for a weekend getaway on one of Wisconsin's thousands of lakes.
74. Visit the Caddie Woodlawn Museum, just a few miles south of Menomonie.
75. Try Eau Claire's Putnam Trail for an easy, relatively tick-free hike.
76. Zoom down a waterslide or two at Chaos Waterpark.
77. Frolf a few holes (or all 36 of 'em) at Tower Ridge Recreation Area.
78. Find a good spot to watch all 65 floats in Chippewa Falls' Pure Water Days Parade.
79. Hear the engines roar at the Big Rig Truck Show.
80. Take to the skies at the Menomonie Airfest & Autorama.
81. Roll over to Cadott to see Blake Shelton at Country Fest.
82. Climb the 60-foot-tall Hoffman Hills observation tower.
83. Cop a scoop of something sweet at the newly opened Ramone's Ice Cream Parlor.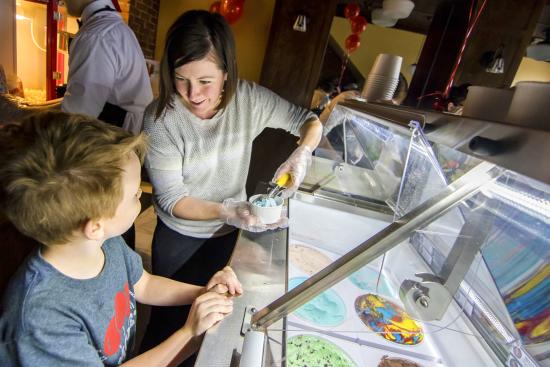 84. Do some waterborne yoga on a paddleboard with Floating Bliss Yoga.
85. Leave your friends in the dust at Action City's new outdoor go-kart track.
86. Sample tons of local restaurants in Phoenix Park at Taste of the Valley.
87. Find your new favorite book (or pass one on) at a Little Free Library.
88. Take a historic mansion tour at Wilson Place, Cook-Rutledge, or Schlegelmilch.
89. Host a block party in your neighborhood.
90. Take a spin on the Tilt-A-Whirl at Cinder City Days in Altoona.
91. Pack a picnic with your sweetheart and head to your favorite park.
92. See if you can keep up at the Firecracker bike race at Lowes Creek.
93. Check out all the cool stuff on the Children's Museum of Eau Claire's summer program.
94. Eat dinner as the sun sets at one of the tons of Valley restaurants with outdoor patios.
95. Laugh mightily at a Clear Water Comedy standup show on Thursday nights.
96. Feel the thrill of the races at Red Cedar Speedway in Menomonie.
97. Follow along with the Timber Trails audio tour of the Chippewa Valley.
98. Travel back in time to the early days of baseball with the Menomonie Blue Caps, who play 1860s-style.
99. Mingle with life-sized dinosaurs at Jurassic Quest.
100. Make your way to Chetek and see a blockbuster at the Stardust Twin Drive-In Theater.
101. Enjoy a frosty malt and watch the lawnmower races at the Eau Claire County Fair.