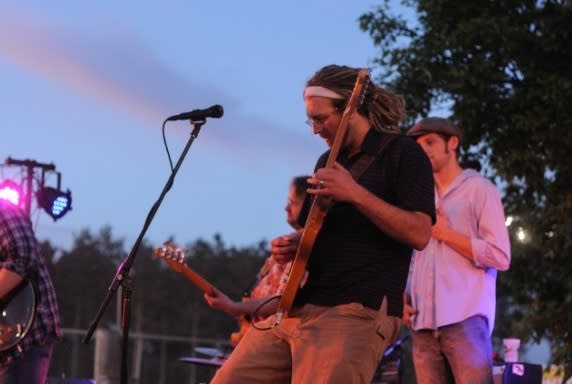 Done! Our crack team of band-bookers, the confusingly named V1 Book Squad*, has succeeded in booking this year's Rock-n-Roll Kickball Classic. Posted here! This year's Saturday headliner is the nationally touring Mpls band Roster McCabe! (Above: one fifth of the band.) Friday's headliner is the high-impact local cover band Brass Monkey. You'll also find local funk favorites Duncan Ninja, and more. Check out the full schedule for May 27 & 28 right … about … here.
Yes, yes, the "kickball" part of the event is all cool and all important and all that, but the live music ain't nothing to shake a shillelagh at. Yep, we went Irish on that idiom.
And teams! Oh gosh, teams, the deadline for sign up is fast approaching. But don't cower in fear like a tiny baby animal. Find some friends and click over to the sign up page. You have until May 12. If you try to sign up after May 12, the sign up page explodes.

It's true. We have the technology.