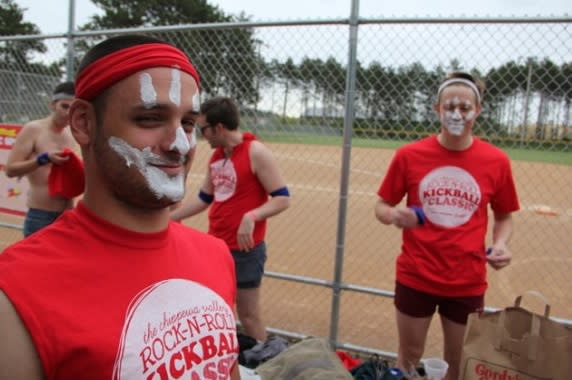 Last weekend, Mother Nature did her darnedest to bring ruination upon the 2011 Rock-n-Roll Kickball Classic, held for the second year in Altoona's well-maintained Cinder City Park. She dumped buckets of rain on us, teased us with some gorgeous blue skies, and then went back to dumping more, even larger buckets of rain on us. But we kept going. In particular, this year's round of teams brought proud smiles to our faces, enduring some pretty soggy conditions as they battled their way through the tournament.
Day One of the 2011 Kickball Classic enjoyed a wet start, as a little rain delayed the first band – yet the kickballers played through the moisture. After the rain stopped, Dead Dogs took the stage and were followed by Brass Monkey who ended the night with a super set, playing through the last kickball game and beyond. Everyone went to bed with anticipation in their hearts, eager for day two.
Day Two of the Classic dawned with gorgeous skies and great weather. The teams battled on through the tournament while the bands rocked – Duncan Ninja, The Brian Bethke Band, The Perennials, and a nearly final show from local favorites South Farwell. And then the rain came. Lots of it. So everything came to a halt for about 30 minutes as Mother Nature did her best to flood all of Cinder City Park. Once it passed, we had to cancel the last two bands of the night (Evergreen Grass Band and Roster McCabe) but the kickball kept on until a victor was declared. The results:
1st Place: The Alcoballics
2nd Place: Embark (for the 2nd year!)
3rd Place: Eau Claire Orthopedics and Sports Medicine
Toilet Bowl Champion: Morning Wood*
For "the best of the worst" (a side tournament for early losing teams).
*The only team from beautiful Minnesota.
Super Spirit Award: The Amblers  (for the 2nd year!)
For the team with the most creative and enthusiastic teamsmanship.
The Consumption Cup: Chippewa Valley Roller Girls*
For the team plus their fans with the most beverages under their belts.
*The Roller Girls barely edged out MEP Associates, who almost won on their team member's efforts alone.
Fan Allegiance Award: Eau Claire Orthopedics and Sports Medicine

For the team with most fans in attendance.
A HUGE THANKS to all the players, all the bands, all the fans, and all the sponsors: Leinenkugel's (and General Beer Northwest), Rock Fest, The Eau Claire Regional Arts Center, The American Red Cross, and also, B-95, 92.1, and Z-100.
Look below for tons of photos and even a sweet video of a rare run-off, ending a game between Eau Claire Orthopedics and Bauman & Associates!