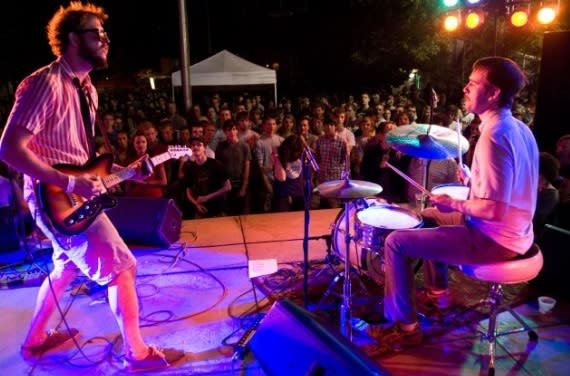 Well, the big ol' Chippewa Valley Rock-n-Roll KickBall Classic finally a-happened last weekend (May 28-29, 2010) in Altoona's Cinder City Park. Wow. Sixteen teams showed up to throw down, as did seven local bands, and a heck of a lot of people looking for some sporting/rocking good times. We were really impressed by the sheer variety of people playing ball and just hanging out – from youngsters to oldsters to jocks to hipsters. It was just a big party.
Quirky tournament highlights included team T-shirt modifications, a team captain dressed as a chicken (no idea why), the team from Amble Down Records ran a huge banner around the bases after each game, and most teams had some great chants, (Captain: "I got 99 problems!" Team: "But a pitch ain't one!") And of course, a rare performance from The Shouting Matches during the final games really brought the whole thing to a climax. Results:
Tournament Winners
1st – Chippewa Valley Orthopedics and Sports Medicine
2nd – emBark
3rd – Morning Wood
Other Awards
Toilet Bowl Winner – Premium Lawn Service
Consumption Cup – Where My Pitches At
Fan Allegiance Award – Chippewa Valley Orthopedics

Spirit Award – The Amblers
Triathlon Winners
Men's 1st – Luke Fedie from Transference
Women's 1st – Bailey Berg from The Contributors
A big thanks goes out to all the teams – and bands – who played so hard in the hot, hot sun. Each and everyone of you people showed us what a true (kickball) hero is.