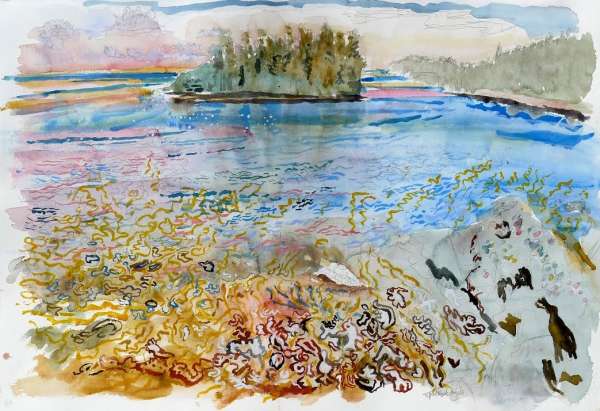 James Boyd Brent Exhibit at the Library
October 27, 2016 – November 27, 2016
Recurring daily
400 Eau Claire St
Eau Claire, WI 54701
L. E. Phillips Memorial Public Library
Monday through Thursday, 10 a.m. to 9 p.m.; Friday, 10 a.m. to 6 p.m.; Saturday, 10 a.m. to 5 p.m.; and Sunday, 1 to 5 p.m
"Riverland," an exhibit featuring artwork by James Boyd Brent, will be on display at the L.E. Phillips Memorial Public Library in Eau Claire from October 20 through November 27. 
"Riverland" is named for the places James knows along the Mississippi River in Minneapolis and Saint Paul, Minnesota. It is an exhibition of fleeting moments, but in each watercolor and etching, the artist aims to indicate a larger picture of interconnectedness between things. It is an imagined version of reality where nothing is inanimate, and the flow of the water is essentially the same flow that animates animals and people, shaping the rocks, and nourishing the vegetation.
The exhibit may be viewed at the library during regular library hours: Monday through Thursday, 10 a.m. to 9 p.m.; Friday, 10 a.m. to 6 p.m.; Saturday, 10 a.m. to 5 p.m.; and Sunday, 1 to 5 p.m.
For information, stop at Information & Reference on your next visit to the library, call 715-839-5004 or e-mail librarian@eauclaire.lib.wi.us. For information about other library programs and events, check the library's website at www.ecpubliclibrary.info.