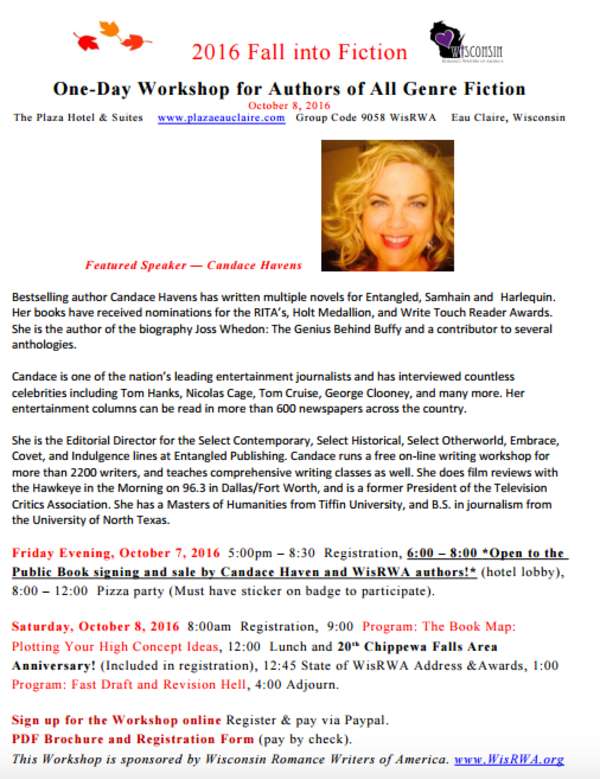 2016 Fall into Fiction
1202 W Clairemont Ave
Eau Claire 54701
The Plaza Hotels & Suites
One-Day Workshop for Authors of All Genre Fiction
October 8, 2016
8:00 Registration
9:00 Program: The Book Map: Plotting Your High Concept Ideas
12:00 Lunch (included in registration)
12:45 State of WisRWA Address &Awards
1:00 Program: Fast Draft and Revision Hell
4:00 Adjourn

The Plaza Hotel & Suites
Eau Claire, Wisconsin
Featured Speaker — Candace Havens
Bestselling
 author Candace
Havens has
 written multiple 
novels for
 Entangled,
 Samhain and
 Harlequin. Her books have received nominations for the RITA's, Holt Medallion, and Write Touch Reader Awards. She is the author of the biography Joss Whedon: The Genius Behind Buffy and a contributor to several anthologies.
Candace is one of the nation's leading entertainment journalists and has interviewed countless celebrities including Tom Hanks, Nicolas Cage, Tom Cruise, George Clooney, and many more. Her entertainment columns can be read in more than 600 newspapers across the country.
She is the Editorial Director for the Select Contemporary, Select Historical, Select Otherworld, Embrace, Covet, and Indulgence lines at Entangled Publishing. Candace runs a free on-line writing workshop for more than 2200 writers, and teaches comprehensive writing classes as well. She does film reviews with the Hawkeye in the Morning on 96.3 in Dallas/Fort Worth, and is a former President of the Television Critics Association. She has a Masters of Humanities from Tiffin University, and B.S. in journalism from the University of North Texas.